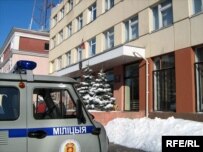 On 25 february the court of Tsentralny district of Homel Maryna Damnenka fined members of the Belarusian Association of Journalists Zmitser Karmazin and Aleh Razhkou 20 basic units (700,000 Br, or USD 245).
Independent journalists have been called responsible for "violation of the rules of holding street rallies", though they were just collecting information about the rally in support of the native language on February 21, Radio Svaboda informs.
The judge rejected all motions to summon other witnesses to the court in order to check accusatorial reports against journalists and find out what they were doing in reality.
Besides, Homel regional prosecutor's office has issued a warning to the member of the Belarusian Association of Journalists Tatsyana Bublikava for actions "in favour of Belsat TV company, which broadcasts to Belarus from the territory of Poland".
As we have informed, on February 21 in Homel members of the organizing committee for creation of the Belarusian Christian democracy and other public activist tried to hold a flash mob to attract attention of the public to problems of the native language.
7 participants of the rally and two independent journalists, Aleh Razhkou and Zmitser Karmazin, were detained by people in mufti and taken to the police department of Tsentralny district.
Judge of Tsentralny court Alena Tsalkova found Alyaksandr Vjartsejka guilty of violation of the article 23.34 (Violation of the order of holding mass events), and fined him 20 basic units (700,000 Br).
Maryja Tulzhenkkova, who was also detained on February 21 for participation in an unsanctioned rally, was fined 50 basic units (1 mln 759 thousand Br). An activist Vasil Takarenka was fined the same sum.
An activist Kanstantsin Zhukouski was sentenced for participation in the picket to 7 days of arrest.
Source: www.charter97.org
Tags: fines, journalists, mass media, rally, Trial